Jeep Tire Services Martinsburg WV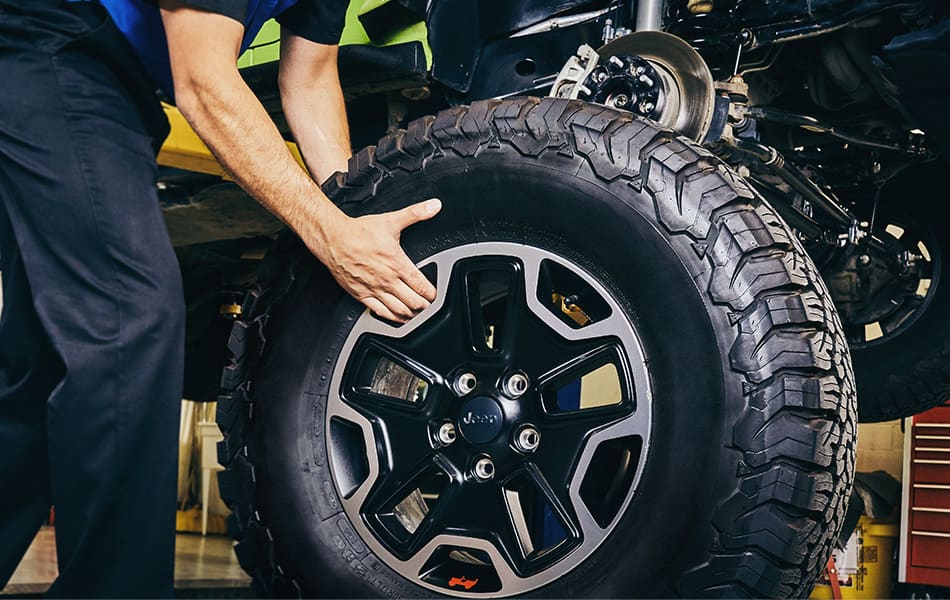 Jeep Tire Services Martinsburg WV
Service your Tires at CMA's CDJR of Martinsburg
When people think about routine maintenance, they most commonly think of oil changes. However, your Jeep's tires are an essential part of your on-road safety as well as your vehicle's overall health. Therefore, tire maintenance services are others that should also be taken care of routinely. Here at CMA's Chrysler Dodge Jeep Ram of Martinsburg, we want to help keep your vehicle healthy and you and your passengers safe. That's why we'd like to offer you information about some of the services we offer to do just that. Continue reading below to learn more!
Check your tire tread
Your tire's tread helps maintain traction on the road even in less than ideal road conditions. Ensuring that your tire's tread still has enough depth to keep traction is an easy way to stay safe on the road no matter where your journeys take you. If you don't have a tread depth gauge, you can still inspect your tire's tread depth using a penny. Take the penny and place it in a few different grooves on the surface of each tire. If the top of Lincoln's head can be seen, you should start considering replacing your tires soon. On the other hand, if his head is covered, you still have some tread life left.
Get a tire rotation
There are a few services to maintain your tire's tread and keep you safe on the road. One of the most common tire services is a tire rotation. Rotating your Jeep's tires is essential to their health because of your car's engine and transmission location. Most of the weight of these heavy parts falls on your front axle, putting pressure on your front tires. This pressure can cause your front tires to wear faster than the rears. By rotating your tires front to back, you can slow this uneven tread wear and extend the life of your tires. Our service technicians recommend rotating your tires approximately every 5,000 miles. An easy way to remember this is simply getting a tire rotation with every oil change.
Check your tire pressure
Another service that is often overlooked is the air pressure of your tires. The pressure in your tires is measured by pounds per square inch (PSI). When your tires are overinflated, it can cause your tire's tread to expand and even crack in extreme cases. Conversely, when your tires are underinflated, the surface of your tires that touch the road becomes larger, causing premature wear. To determine the correct tire pressure for your specific vehicle, you can find it on a placard on the driver's door jamb or in the owner's manual. While most newer Jeep models have wheel-specific tire pressure monitoring, it's recommended to check your tires each month to ensure they're all at the correct PSI.
Get a wheel alignment
Your tire's outer edges may be a small area, but they play an essential role in your road safety. On the outer edges of your tires, you'll find small grooves leading to the tire's sidewall. These grooves are in place to drive water, dirt, and snow out and away from the tire's road surface to maintain traction. To keep the depth of these grooves, your wheels must be aligned appropriately. Three specifications are checked and adjusted during a wheel alignment, toe, camber, and caster. The toe is the horizontal angle of your tires. Toe-in or toe-out can cause a dragging effect which causes uneven and premature tire wear and decreased gas mileage. Conversely, camber is the vertical angle. Positive camber tilts the top of the tire out, while the bottom buckles in, while negative camber has the opposite effect. Lastly, the camber is the angle of the steering axis. Jeep has a specific degree to ensure that the wheels are pointed straight.
Keep your tires rolling at CMA's CDJR of Martinsburg!
Here at CMA's Chrysler Dodge Jeep Ram of Martinsburg, we want you and your passengers to be safe on your travels. Our service center is staffed with knowledgeable technicians with years of experience servicing vehicles from Jeep's entire lineup. If your tires are due for servicing, bring your Jeep in, and one of our service experts will be happy to inspect your tires and perform the necessary services to help you get the most from them. If your tires are due to be replaced, our service center is stocked with tires from top brands like Michelin and Goodyear. You can schedule your next service appointment by calling our service center directly at
304-263-8821
or right here online using our
service scheduler
. We look forward to serving you!