Jeep 4xe Technology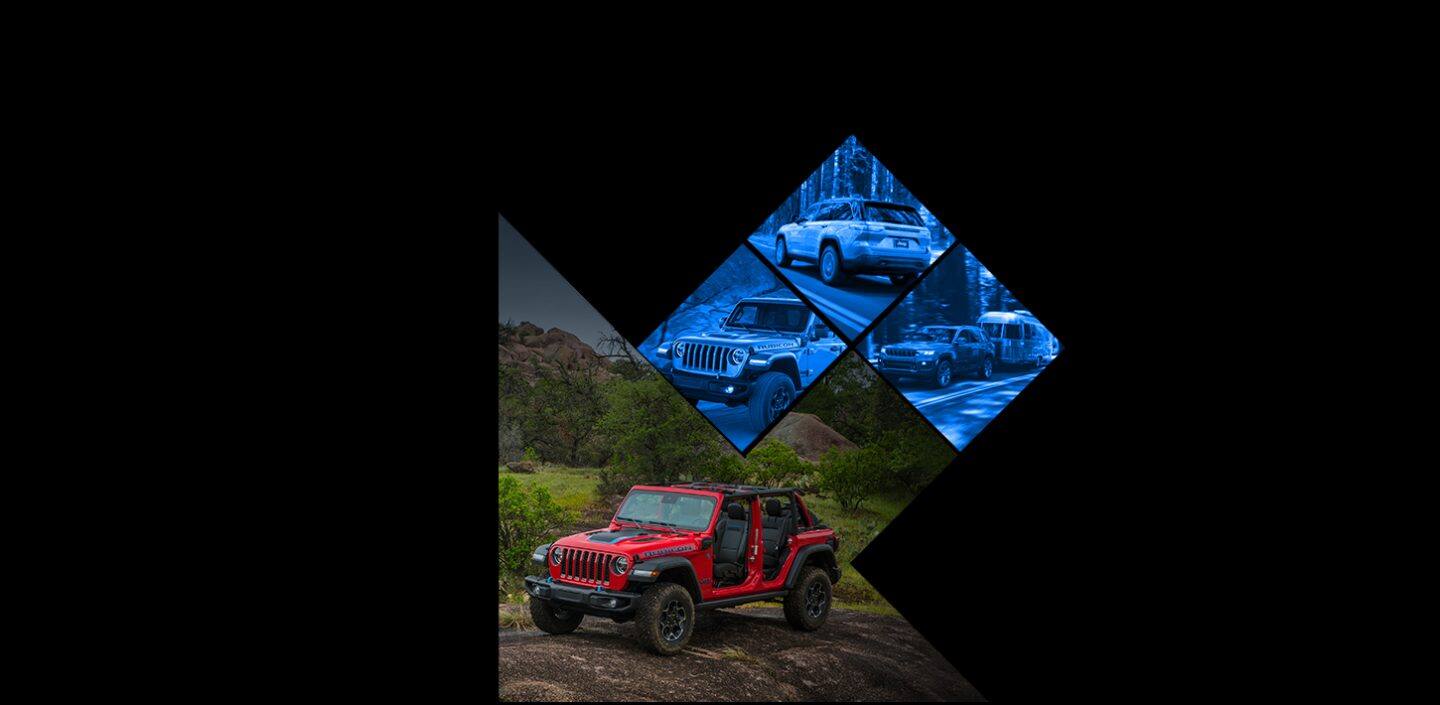 Jeep 4xe Technology
The fuel-efficient and innovative Jeep 4xe plug-in hybrid won the 2022 Wards 10 Best Engines and Propulsion Systems award. The honors mark the 12th consecutive year a Jeep product is among the winners on the list. Jeep plug-in hybrid technology pairs a traditional gas engine with incredible electric motor performance. Jeep electrification also offers near-silent, pure EV-driven performance when in Electric mode. Plus, you can adjust the electric output to suit different driving conditions, recharge and do it all over again.
Pure EV-Driven Performance
The default Hybrid Mode combines torque from both the PHEV powertrain with a 2.0L DOHC DI Turbo I4 engine and the electric motor. This combination provides maximum horsepower, instant torque, and thrilling acceleration. In addition, electric Mode allows for nearly zero tailpipe emissions up to highway speeds. The Grand Cherokee 4xe can run on this mode for a distance of up to 25 total miles on a full charge. eSave Mode prioritizes the 2.0L engine, saving battery charge for later use. When power demand is low, the engine shuts off. It can also be reconfigured to increase the battery charge as well.
Push the Boundaries of Adventure
The 4xe hybrid powertrain provides up to 375 horsepower and 470 pound-feet of torque for a maximum towing capacity of up to 6,000 pounds in the Grand Cherokee. The Wrangler 4xe delivers an impressive 375 horsepower and 470 pound-feet of instant torque for heart-pounding performance off-road and on-road. The torque provided by the electric motor improves rock crawling capabilities and powerful speed off the line. And for impressive traction, it's the Industry's First PHEV with Front and Rear Locking Differentials.
At the Heart of Your Jeep 4xe
A powerful 17.3 kWh battery lies at the center of each Jeep 4xe vehicle. It only takes two hours to fully replenish its energy with an available Level II battery charger so you can get back to your all-electric adventure. Travel with confidence wherever you go, thanks to the uncompromised capability that maintains the spirit and authenticity of the Jeep Brand. In addition, 4xe batteries are safely sealed behind a waterproof casing to help you traverse bodies of water up to 31.5 inches deep. Wrangler 4xe offers the same water fording capability as its gas-powered counterparts, sacrificing nothing.
It's Easy to Charge Up and Go
Jeep 4xes have two simple charging solutions to choose from. The Level I charging system, which requires 120 volts, comes standard across all 4xe models and plugs into a typical household outlet. The available Level II Jeep TurboDX Electric Vehicle EV Charger, which requires 240 volts, is simple to use and offers a faster charge than Level I. The Level II charger can fully charge the battery in approximately 2 hours versus 12 hours. To make your life even more straightforward, Jeep has partnered with Qmerit to make installing a Level II charger at your home simple. Plus, Jeep is working to establish a Jeep 4xe Charging Network across America for 4xe owners. These stations will allow you to continue your electrified adventures in some of the most remote destinations, including Jeep Badge of Honor off-road trailheads.
Visit CMA's CDJR of Martinsburg for Your Next Jeep 4xe
If you would like to join the electrifying journey with Jeep 4xe powertrains, head to CMA's CDJR of Martinsburg, where our selection is vast and our staff is friendly. Come and check out our full selection of new Chrysler, Dodge, Jeep, and Ram vehicles, or get a great deal on a reliable pre-owned model. Regardless of your vehicle, our professional finance team will help you get settled with a competitive financing or lease plan. Many folks in Martinsburg count on the high-quality vehicles and services found at CMA's CDJR of Martinsburg, and we look forward to living up to our reputation every day. So please stop in and see us today, or contact our staff with any questions!